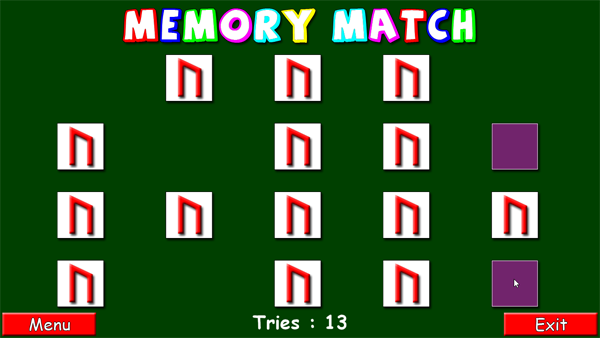 MEMORY MATCH GAME
This is a memory match game that focuses more on language learning than game play.  The object of the game is to match the cards in as few tries as possible.  There are 20 cards total allowing for 10 items to be matched.  When a card is clicked and flipped over, an audio file pronouncing what is on that card is played.  This is done whether a match is made or not.  Almost anything can be represented on these cards, which means multiple versions of this game can be ordered with different language content added based on the customer's needs.  If the customer desires, they can provide a custom image to be used for the back of these cards.
Language Content (provided by customer)
The 10 terms or ideas represented on these cards can be almost anything.  Colors, furniture, insects, etc.  Audio files are needed for these items.  They will be played when the player clicks on a card to turn it over.
The game text can also be translated.  For example, the game title, menu options, the text in the "How to Play" section, etc.  This content is text only.