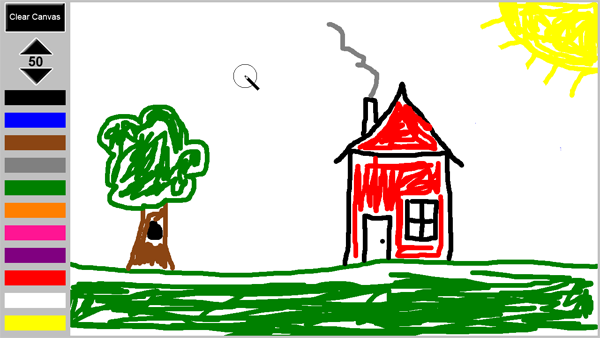 PAINT PROGRAM – $300 (base price)
This is a simple paint program intended for younger children to help them learn the basic colors of a given language.  The usual features associated with a paint program, such as saving images, printing, opening files, etc., are not included with this program.  Instead, it opens up to a blank canvas that is ready to be drawn on with the mouse.  The color buttons to the left will play an audio file pronouncing that color when clicked.  If a child wants to start over, clearing the canvas is as simple as clicking a button.  The size of the pencil can be adjusted via the up and down arrows at the top-left portion of the screen.
Language Content (provided by customer)
Audio files for the colors red, black, yellow, white, brown, gray, orange, yellow, green, blue, and pink are needed.  There is the potential for adding text on top of the color buttons, but space constraints may make this difficult.  The default option is to simply let a child associate the pronunciation with the color itself, not a word.
The only text that needs to be translated is the text for the "Clear Canvas" button.